News
PRE-REGISTRATION FOR TRY OUTS
posted Jul 14, 2021, 4:39 PM
INVITATIONAL PROGRAM TRY OUTS AT VIP!
VIP Gymsports is offering pre-registration for our invitational programs for ages 4 and up, please send completed form to vipgymsports@gmail.com by August 5 to be invited to our new gym in August free of charge for an in person try out and placement! Registration after August 5 may not guarantee a space in our program and try outs will cost $15
We are pleased to offer a wide variety of programs for advanced recreational, interclub, and competitive athletes. We have ample space to accommodate many athletes and programs with no interference with school (JO program exception with training 1-5 pm Fridays only). Additionally in our double story facility your athletes will have plenty of space to train with minimal distractions other groups. Furthermore our facility has ample parking and is fully air conditioned which is especially nice on hot summer days!!!
We look forward to talking with you and meeting your athlete(s) in august, and welcoming you to our gym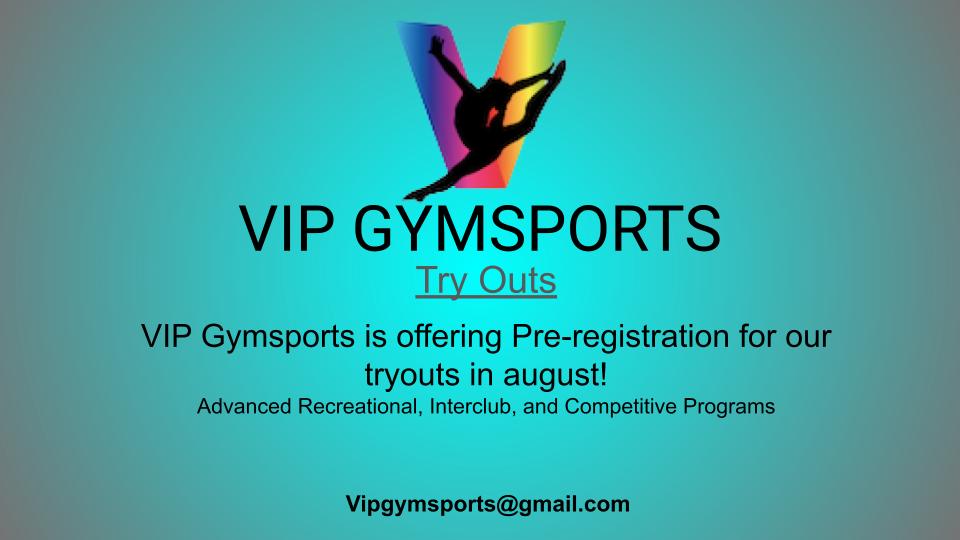 VIP application for invitational programs.pdf